Irrigation Services
Exceptional customer service is our first priority.

COMMERCIAL- RESIDENTIAL

Alan Brooke Roofing employs only experienced irrigation service technicians whose sole responsibility is to keep your system running perfectly. Alan Brooke Roofing is proud of our service team who's experience and capabilities exceed expectation. Our service techs participate in ongoing education and training programs and are certified product professionals. Whether your current system is in need of upgrading, repairs or general maintenance, a knowledgeable service technician will evaluate your needs and bring attention to any repairs needed. A Alan Brooke Roofing professional will also recommend any changes which could provide you with a more efficient irrigation system.

Services


Sprinkler System Services
Irrigation systems are automatic watering systems designed to deliver a controlled flow of water for the growth of plants. Growing emphasis on water conservation is making it more important than ever to use the most suitable irrigation system for lawns and gardens. While above-ground spray systems have been the traditional choice for water application, in-ground applications like drip irrigation are gaining in popularity because of the unique cost and water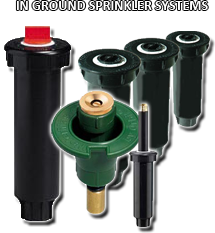 conservation advantages these systems offer. This guide will explain the difference between in-ground and above-ground irrigation systems, the basic components used in each system, the applications they are best used for, and what to look for in making your selection.

In-ground Irrigation
An in-ground irrigation system disperses water through sprinklers attached to risers connected to a network of underground pipes that run throughout your lawn. It can also include a drip system that disperses water through emitters directly to plants' root zones in a slow, precise application, producing deeper root growth and more abundant foliage for garden favorites like perennials, annuals, shrubs, and ground covers. When properly designed, drip irrigation maintains an optimum balance of water and air in the root zone while reducing water wasted due to the sun and wind.

Drip irrigation offers many money- and time-saving benefits. Delivering water directly to plant roots saves you money by reducing up to 70% in water waste from evaporation and run-off. It saves you time by replacing hand watering, and reduces yard maintenance by delivering water directly to plants, reducing weed growth.

An in-ground irrigation system is composed of:
Valves
Pipe and Fittings
Sprinklers
Risers and Flex Assemblies
Drip Tubing
Timers
Call today for an estimate on adding an in ground irrigation system to your property.
Maintenance Programs
The Spring Start-Up consists of:
Turning on water and pressurization of main line; check for leaks
Checking all sprinkler heads for proper operation, clean and adjust as needed
Checking all zone valves for proper operation, clean and adjust as needed
Programming control timer to your requested watering times or restriction
Installing suction line in water, prime and check pump for proper operation (if applicable)
Check rain sensor operation
The Mid-Season check consists of:
Check entire main line for possible leaks
Checking all sprinkler heads for proper operation, clean and adjust as needed
Checking all zone valves for proper operation, clean and adjust as needed
Check timer for proper programming, adjust as needed
Check rain sensor for proper operation

The Fall Shut-Down consists of:
Turning off all water valves to irrigation system
Blowing all irrigation lines of water with compressed air
Removal of all plugs on RPZ Backflow preventer
Turning off control timer
Removal of suction line from water, drain and winterize pump (if applicable)
Go Back